Fera is committed to working closely with the local community to develop projects that are an important part of Australia's transition to sustainable energy production and provide funds that enable the community to enjoy local benefit projects that are determined by the local people. Each project is committed to delivering a legacy to the local community that continues beyond the operational life of the wind farm.
As a project transitions from desktop investigation to potential project, it will continue to change based on a wide variety of inputs including:
Wind monitoring
Landholder interest
Community and stakeholder inputs
Culture and heritage
Flora and fauna investigations
Access and physical assessments
Noise and traffic modelling
Grid connection
Planning for a wind farm will take up to 3 years. Throughout this time Fera will hold regular community information days where the team's experts will travel to local venues. These sessions will enable everyone in the community to contribute their thoughts and inputs as well as being updated on the project's design and investigations. 
To ensure the community maintains a strong involvement in the project, Fera will establish a Community Consultative Committee (CCC). The CCC will be managed by local community members and receive annual funding for community projects.
•     Deliver wide benefits and ensure a strong connection across the local community 
•     Support the work of existing and future organisations 
•     Encourage local innovation and support for issues of significance 
•     Promote local awareness and education on the benefits of sustainable renewable energy 
•     Continue to maintain strong relationships across the local and wider communities
The committee will ensure the CCC projects benefit the economic sustainability of the local community beyond the lifetime of the project. Our aim is to include landowners in projects where ever there is interest in being involved. No turbines will be located within 1 km of any dwelling. In the case of nearby houses that are within 2 – 3 km of a turbine, we will meet with each of the homeowners to develop a solution together that minimizes any visual impacts of the proposed turbine location.
As a principle of the project, Fera is keen to work with all landowners in the surrounding area.  
Key criteria for landholder involvement:
•     Interest from the landowner to participate
•     Location of residence on property and adjacent properties
•     Topography and geology of the property and the assessment of potential turbines individually and as part of the greater turbine network
•     Investigation of associated infrastructure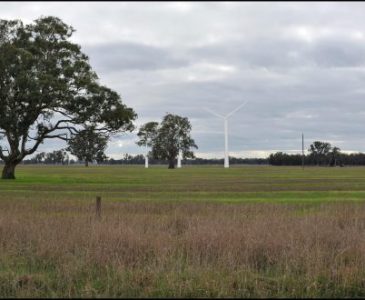 CCC projects will provide lasting value to the local community. The initial program elements include:
• Community Car Charge Station (Free, wind generated, energy direct to Electric vehicles)
• Upgraded telecommunications
• Funded projects for community (CFA, Schools, Sporting clubs)
All planned turbines will be located more than 1km from homes, including those on adjacent properties. Through the investigation phase of the project, Fera will seek to minimise the impacts of planned turbines and work closely with homeowners that are situated 2 – 3 km from a turbine. Please contact us to discuss your property, and we can arrange a meeting to discuss and minimise the impacts of the project to your property.
Fera is dedicated to minimizing impacts associated with its projects. These include the following:
•     Visual: 
      Following a detailed program of investigation and consultation, a final layout will be confirmed for the project. This will including turbine locations, underground cable layout between turbines and determining an alignment for the above ground powerline connection between the project substation and the main grid connection.
•     Noise:     
      Detailed, geologically specific, noise assessments will be undertaken to ensure there is no disturbance to the surroundings. Performed by professional third parties, assessments will not be undertaken in a vacuum and will consider the geographic uniqueness of each site in question.
•     Agricultural Production:
      The turbines occupy a small percentage of host farms and allow for all agricultural needs to be performed beneath their occupied area. New easements and internal roadways will be created in consultation with each of the landowners to ensure the infrastructure also facilitates improved operations for the property. The construction program will be worked through with each farm to minimize impacts to farm operations.
•     Traffic and Construction:
      Detailed traffic management plans for transport of wind farm components will be developed in conjunction with the local councils to ensure access in maintained throughout construction. Ensuring that in the event of a bushfire or natural disaster, all roads will be accessible.
•     Socio-economic:
       In developing the community benefit scheme and CCC, a key focus has been to more directly deliver the benefits of the wind farm within the immediate surroundings. Employment will be prioritised for local jobs and business.
•     Culture and Heritage:
       Fera will meet with the local indigenous community to build a detailed knowledge and understanding of the area's cultural heritage. In particular, any areas of significance that must be avoided or collaborative planning. We will look to reinforce the protection of sensitive areas and celebrate the history of the area.
Learn more on the environmental benefits of wind power.
Learn about Fera's history in Italy and future in Australia.